Hi, I'm Helen.
The first thing to say is that I absolutely love being a graphic designer and an illustrator. People tell me that this shows through in the work I do. I hope so as there's nothing else I'd rather be doing.
I have run a design agency before but I prefer working for myself in the way that I do now. Agencies can be slow to deliver and impersonal.
What I try to give my clients now is the best of both worlds. I can offer the breadth of experience you get from agencies at affordable prices. I'd love the chance to be able to create designs and illustrations for you.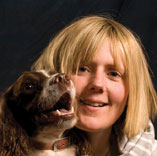 ---
Client testimonals
"Helen is, quite simply, a creative genius when it comes to visuals. She never disappoints with her designs. Unlike some designers, she doesn't try to force her ideas onto you. She'll guide you when needed as to what would look good, but she's not pushy. Somehow she always seems to grasp what is required. She is versatile, reliable, friendly, conscientious and great to work with." – Steve Roche

"I have worked with Helen for many years and have recommended her to numerous people. She is a great designer and a pleasure to work with." – Ron Holland
---
Clients I've worked for
Artesian Solutions
Beama Ltd
Boston Ltd
The Child Outcomes Research Consortium (CORC)
Eureka Financial
Foxy Bingo
HarperCollins
Imperial College London
Infoplace
Littlewoods Leisure
LSHTM
Maxell Europe
NCTJ
PCD
Penguin Books
Save the Children
Steve Roche
Supermicro UK
Westcott House
Xenzone
Zaboura
---